Bishop wants research into welfare reform-food bank use 'link'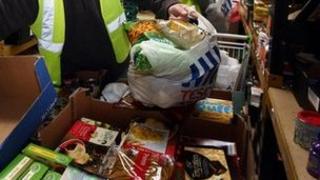 Research is needed into whether government welfare reforms have caused more people to become dependent on food banks, the Bishop of Truro says.
The Right Reverend Tim Thornton said it was vital to understand if there was any sort of link.
A study by Church Action Poverty and Oxfam said more than 500,000 people in the UK may rely on food banks because of benefit cuts and unemployment.
The government said its reforms aimed to improve the lives of poor families.
Bishop Thornton said: "We need to ask for the facts as to why people are in this situation, and why there is such a desperate need for food.
"It wouldn't take much work to point out how these things are growing."
In response to the recent Church Action Poverty and Oxfam study, the government said its welfare reforms would "improve the lives of some of the poorest families in our communities".