Royal Cornwall paramedics 'assisted A&E staff at busy times'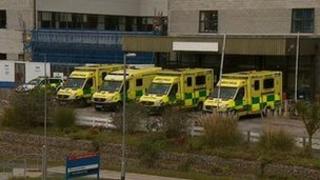 Demand for A&E services was so high at times in Cornwall paramedics had to help hospital staff instead of being on ambulance-standby, it has emerged.
Three cases in March saw patients taken to the Royal Cornwall Hospital in Truro recorded as taking up to eight hours to be handed over to the hospital.
The Royal Cornwall Hospitals Trust confirmed paramedics had worked alongside hospital staff.
It said their assistance was recorded as an extended handover.
The cases in March were highlighted in a report in the Sunday Telegraph.
One case was recorded as having an eight-hour handover, and two others took seven hours.
'Undoubted pressure'
The trust said it experienced extremely high emergency demand during the two days in March when the longest handover times were recorded and paramedics had worked alongside hospital staff.
A spokesman said the hospitals trust and the South Western Ambulance Service NHS Foundation Trust were working on measures to reduce delays.
Ambulance chief executive Ken Wenman acknowledged handover delays were "undoubtedly putting pressure on the service, and the issue is proving a challenge to ambulance services and hospitals alike".
However, he added patients were "not waiting in ambulances".
"They are being treated by our clinicians until they are formally handed over to the hospital," he explained.
"It goes without saying that patients who are in a life-threatening condition will receive treatment without delay."
Hospitals are contracted to get ambulances back on the road within 30 minutes of their arrival with patients.
In March, more than 300 ambulances had to wait more than half an hour before delivering their patients to hospital staff, according to official figures.
Trust managers put it down to a combination of the norovirus outbreak, delayed patient discharges and an increase in older patients with complex needs.