Cornwall Council's health privatisation plan under way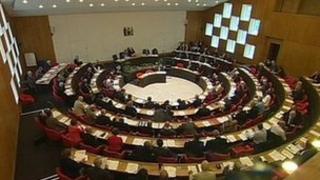 A health privatisation project has transferred 300 Cornwall Council and NHS staff to British Telecom.
The BT Cornwall partnership, which aims to create 500 new jobs over five years, centralises some services and will use technology to monitor people with long term conditions in their own homes.
Earlier proposals for a much wider privatisation deal caused political chaos at County Hall in Truro.
Unions were opposed, claiming similar projects had failed.
The bigger plan - which included services like libraries and one stop shops - also cost former council leader Alec Robertson his job following a vote of no confidence.
The venture was supported by Kevin Lavery, the former chief executive of the council.
'Cautious welcome'
Mr Lavery argued at the time it was a way to deal with public sector spending cuts, but in February the Royal Cornwall Hospital Trust pulled out.
A slimmed down version was approved in March, which will centralise some services including IT support and document management.
The partnership 'BT Cornwall' will deliver savings of £17.6m over 10 years.
Organisations which run mental health, community, children's and learning disability services are involved in the project.
Bridget Taylor, the chief executive of BT Cornwall, said: "The savings come primarily from investment in new processes, automating some activities and using BT's scale as a global company in terms of buying goods and services but also in terms of using our infrastructure."
Mrs Taylor said staff transferring to the new company would keep their existing terms and conditions as well as additional benefits like access to BT broadband.
BT Cornwall hopes to create 510 jobs in Cornwall "over the life of the partnership".
Stuart Roden, from Unison, said: "We're still concerned these types of joint ventures around the country haven't got a fantastic track record.
"A cautious welcome to it, but we're keeping a watching brief."