Cornwall 'needs to double 2015-16 savings'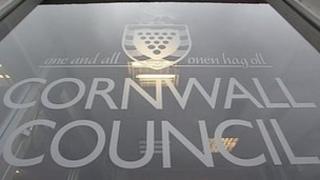 Cornwall Council will have to more than double savings planned for 2015-16 as a result of government cuts.
It said a 10% cut to local authority budgets by Chancellor George Osborne meant it needed to make a further £20m of savings on top of £19m already planned for that financial year.
The authority said the reality was it would mean "real service cuts".
It added that there were plans to consult with the public about where savings should be made.
'Our worst expectations'
In the government's Spending Review, the chancellor announced £11.5bn worth of further cuts to come into force in 2015, just before the next election.
Mr Osborne said the bulk of the costs would be met by those with the greatest wealth.
Cornwall cabinet member for finance Alex Folkes said the Chancellor's announcement "simply confirms our worst expectations".
He said: "This does not come as a surprise to the authority as we had anticipated this figure.
"But we are still saddened that more has not been done to safeguard local government services such as adult care and repairing our roads, alongside the NHS, overseas aid and the schools budget."
Cornwall's Liberal Democrat-Independent coalition unitary authority has an annual budget of more than £1.1bn.