Fisherman's Friends release Trevor Grills memorial single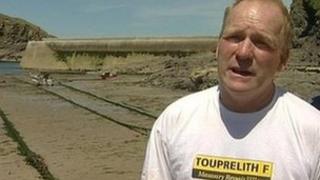 Sea shanty group Fisherman's Friends have released a single in memory of one of their singers who died.
The group from Port Isaac in Cornwall were on tour in February when Trevor Grills was killed, along with their tour manager.
Mr Grills, 54, from Port Isaac, and Mr McMullen, 44, from Disley in Cheshire, were hit by the door at the G Live venue in Guildford.
The remaining nine members said the deaths had been "devastating".
'Nothing feels right'
The band have only performed once since the tragedy, at Mr Grills' funeral service.
But the singers have released the single Mary Anne, which was recorded in January and features Mr Grills.
He also featured in a video filmed near Padstow for the song.
Their second album, One And All - due to be released in March - is to now be released in August.
But despite the release of the single and album, the "future for the group and the nine remaining members of The Fisherman's Friends is still uncertain," the singers said.
"Nothing feels right without Trevor, and the events of earlier this year will not be forgotten quickly.
"We are just not ready to make any decisions about the future of the group at this stage and performing without him is just unthinkable."
Singer Jon Cleave said there had been "a lot of discussions" about the group's future.
He said: "We meet every week, we don't sing, we just chat stuff through. It was terrific to be able to do that."
He added that members had been "absolutely overwhelmed and astonished" by the support from fans around the world, with many urging them to continue in Grills' honour.
"It's been very heartening to know people want us to sing again," he said.
The 10-piece group, from Port Isaac, were given a £1m recording contract after being discovered by music industry bosses during a pub concert.
In 2010, the band received a gold disc after they sold more than 100,000 albums.
They have since performed at the Glastonbury Festival.
Ealing Studios was working on developing a film charting the rise of the cappella group.