Hard runway at Land's End Airport 'vital'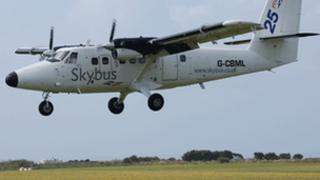 A hard runway at Land's End Airport is "vital" to ensure flights and provide a lifeline to the Isles of Scilly, airport managers say.
Flights were affected when Land's End's grass runway was waterlogged over two months during the winter.
There are flights six days a week in good weather. The Scillonian passenger ferry only runs in the summer.
Residents living nearby said they were concerned about planning issues and the visual impact of a new runway.
'Robust as possible'
The Isles of Scilly Steamship Company (ISSC), which owns the airport, is the sole provider of commercial flights to the islands, which have a population of 2,200.
Plastic mats have been used to strengthen the runway, but airport management said a more permanent solution was needed to secure the future of the business.
Manager Chris Pearson said: "As the sole air provider, we need to make sure we're as robust as possible.
"As a lifeline link, we fly mail and carry out NHS contracts, which are all essential."
'Big black stripes'
The company said it was looking at whether it needed planning permission for a hard runway, or whether it could be built as a so-called permitted development, which would not require planning approval from Cornwall Council.
One resident John Passingham claimed: "A new hard surface is a major development and is subject to proper rigorous planning."
Another resident, Tony White, said he was concerned about the potential visual impact.
He said: "There will be big black stripes slicing across the country and visible from every way you approach this area."
The airport said it was working with the Isles of Scilly Council to put together a joint funding bid in the hope they would be able to secure finance from the European Regional Development Fund.
A new £1m passenger terminal was opened at the airport in April.
The Department for Transport (DfT) said the runway was a local planning matter.