New flights begin from Newquay to London Southend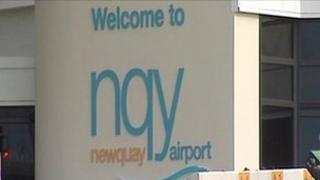 Flights have started between Newquay Airport and London Southend.
Easyjet hopes the service and Liverpool flights which begin in July, will bring 20,000 people to and from Cornwall.
The airport's passenger numbers have fallen for the past five years but a spokesperson said there would "be a strong demand" for the new services.
Al Titterington, managing director of Newquay Airport, called it an "exciting time".
Flybe announced in May that its London flights to Newquay would end next year, blaming an increase in airport charges at Gatwick.
Malcolm Bell, head of Visit Cornwall, said: "Cornwall is regularly voted the UK's top holiday destination.
"We welcome the routes and are looking forward to working closely with Easyjet to establish these exciting, new connections."
Easyjet will also introduce flights to and from Liverpool Airport from 4 July, ending on 8 September, while the London Southend flights will continue to 21 September.
Cornwall Council spent more than £3m running the airport last year, serving 174,000 passengers - 25,000 fewer than in 2011.