100 Plymouth Royal Mail workers stage wildcat strike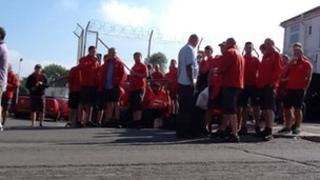 About 100 Royal Mail workers have staged a two-hour wildcat strike in Plymouth.
Staff staged a picket line at West Park delivery office before returning to work later in the morning.
The Communication Workers Union (CWU) said members were protesting about issues including treatment of staff and the possible closure of the centre.
The Royal Mail said it was "disappointed" with the action and apologised to customers.
'Show of solidarity'
Chris Webb of the CWU said Royal Mail had agreed to a review of working practices which the union claims have led to increased workload and unpaid extra hours.
He also said no workers at West Park would lose their jobs as part of the Royal Mail's plans to move part of the operations to Plymstock.
"It was a fantastic show of solidarity," he said. "It was also a show of frustration, we want to provide an excellent service, we want to look after people and make sure they get their mail on time.
"But because of Royal Mail we haven't been able to do that."
Val Bodden of Royal Mail said: "Royal Mail would like to apologise to customers in the PL5 and PL6 postcode areas affected by the unofficial strike taken this morning by colleagues at West Park Delivery Office, Plymouth.
"Staff have now returned to work and we are attempting to deliver all items of mail to customers as soon as possible."