Tablet school: pupils do better at Mounts Bay Academy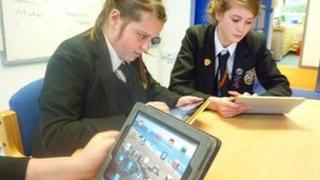 A Cornish school which invested £100,000 in a tablet computer for each of its 900 pupils said the exercise has been a "huge success."
Staff at Mounts Bay Academy, in Penzance, said there had been a "significant improvement" in pupil achievement.
The academy has been using iPads instead of traditional text books since November 2011.
Sarah Davey, the principal, said they had "been worth the investment".
Mrs Davey said the school had decided to give each of its pupils a tablet to make sure they all had the same opportunities to access new technology.
She said a previous scheme in which pupils could buy laptops had been taken up by richer pupils but not poorer ones.
"We wanted everybody to feel they were equally valued and equally had the ability to become the independent learners we want them to become," she said.
The iPads have been leased by the school as part of a three-year contract.
They are loaned out to pupils like a library book, while all the browsing and downloading on the instruments is scrutinised by staff.
Oscar, a year eight pupil at the school, said: "It's revolutionised learning, textbooks can only give you so much information, with tablets there is basically an unlimited source of information from the internet and everywhere else."
Simon Elliot, the school's director of digital technology, said: "With pupils who might be reluctant readers, or who might not pick up a book... the iPad is now giving them something that they're forced to read... therefore they are reading a higher volume of work."
Reading for pleasure
Mr Elliot carried out a study of the effect the iPads had had on pupil achievement as part of his masters degree.
He compared 900 pupils' progress reports from the year before the iPads were introduced with 2011, the year pupils first used them.
He said he found a "significant and noticeable improvement" in the reports.
Booktrust, a national charity which promotes reading and writing, said new technology is increasing the popularity of books and reading for pleasure among children.
It has just run Read for My School, a competition for primary school children.
Libraries and librarians
It said 49% of the 400,000 books which children read as part of the national reading competition Read For My School, were online rather than hard copies.
And according to teachers polled by the trust, boys with average and lower reading ability were the pupils most motivated by reading online.
Alison Keeley, head of schools at Booktrust, said: "It's about making reading different and more exciting.
"As long as children are reading I don't think we should be prescriptive about the method they use to find a story.
"Having said that, Booktrust strongly believes in schools having libraries and librarians. We certainly don't feel these can be replaced with iPads overall.
"It's about offering relevant options for all readers."