Shanty festival remembers Fisherman's Friends singer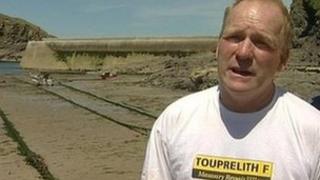 Hundreds of singers from about 40 different groups are taking part in a music event dedicated to Trevor Grills of the Fisherman's Friends.
This year marks the 10th anniversary of the Falmouth Sea Shanty Festival.
It is also being staged in memory of Paul McMullen, the Fishermen's Friends tour manager, and Ann Hunt who was a member of the local branch of the RNLI.
Mr Grills and Mr McMullen died after being hit by a falling metal door at a venue in Guildford, Surrey in February.
The 10-piece group, from Port Isaac, were given a £1m recording contract after being discovered by music industry bosses during a pub concert.
John Warren, organiser of Falmouth's Sea Shanty Festival, said: "We're a close-knit community and this year is the 10th anniversary of the festival.
"The Fisherman's Friends have supported us from year one. Trevor was a superb singer, and a true gentle Cornishman. He was a lovely guy."
The festival is held at multiple venues throughout the weekend with the main stages being at Custom House Quay, Events Sq and The Moor in Falmouth.
There will also be a variety of venues such as public houses, King Charles the Matryr church, cafes and many others holding smaller events.
Falmouth Classic regatta will be taking place at the same time.