Council tractor damages crash victim's roadside memorial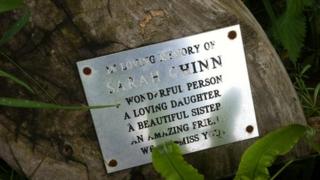 Cornwall Council has apologised to the family of a young woman killed in a crash for accidentally damaging her roadside memorial.
Sarah Chinn, from Grampound, was involved in an accident on the A39 near Truro in April 2007.
Her family said they were "shocked and disappointed" that a tractor recently wrecked the memorial as it cut verges along the road.
Cornwall Council said it was "sorry for any distress caused".
A stone plaque is still in place, but a flower bed was destroyed.
'Quite disrespectful'
The memorial on the bed said: "In loving memory of Sarah Chinn, a wonderful person, a loving daughter, a beautiful sister, an amazing friend, we all miss you."
Joanne Kingsley Heath, Miss Chinn's sister, said: "It is quite disrespectful to not call us and inform us.
"I find it shocking they hadn't let us know. I will now go and pick up any bits I can salvage."
In a statement Cornwall Council said the driver of the tractor, who was cutting back the verge, was unable to see a memorial was there because "vegetation had recently grown very fast, and the memorial itself had not been maintained well".
The council went on to say that, while officials did not condone memorials on roadside verges for safety reasons, it had decided to allow Miss Chinn's to remain in place.