New Cornwall Council chief executive to be sought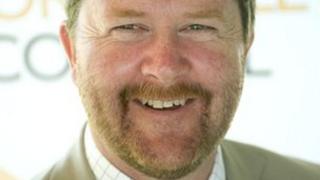 Cornwall Council is to seek a new chief executive.
Plans to scrap the role were discussed at the first meeting of the new cabinet, but it voted unanimously to recommend a panel be put together to appoint a new chief.
The council will decide the role and pay of the job over the next few months.
Former assistant chief executive Paul Masters has taken the role for an interim period, until September.
Financial pressures
Mr Masters is on a lower salary than former chief executive Kevin Lavery, who received £200,000 a year.
He is currently being paid between £158,000 and £175,000.
BBC political reporter Tamsin Melville said that, with the ongoing financial pressures at the council, it seems "very likely the salary of whatever sort of role is agreed will remain lower".
According to the council's website, the chief executive is responsible for a budget of approximately £1bn and more than 5,800 full-time equivalent employees.
The proposal to not have a new chief suggested having the post replaced with a "Head of Paid Service".
However, officers of the Liberal Democrat and Independent-led authority had warned it could leave other senior officers with too much work if the post was axed and its responsibilities were shared out.
Mr Lavery left the post to become chief executive of Wellington City Council in New Zealand.