Cornwall to get 95% fibre-optic broadband coverage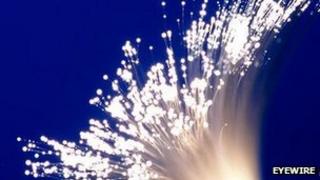 Only about 5% of properties in Cornwall will not be able to access fibre-optic superfast broadband, the organisation behind a £132m project says.
The project - involving BT, the EU and Cornwall Council - would see 95% hooked up, beating an original target of 80%-90% of businesses and homes having superfast access by 2014, bosses said.
But about 13,000 premises would not be able to be connected, they confirmed.
Businesses warned there could be "digital divide" for those unconnected.
Wi-fi queries
A fibre-optic network is being put in place across the county to provide connections allowing download speeds of up to 100Mbps (megabits per second).
Cornwall Superfast, the organisation managing the programme, said the original contract in 2010 was to supply 80% of properties by end of 2014.
However, Maggie and Robert Rogers, from Mylor, who are landlords and also run a campsite, said they had to rely on dial-up and mobile signals for internet access.
They said they felt "deprived" at being told they would not be able to access the fibre-optic network, and believe not having broadband is costing them trade.
Mr Rogers said: "We find people enquire whether we have wi-fi and broadband. When we say we haven't, I think we've lost tenants as a result.
"If people email us, it can be a day or two before we can respond.
"You can apologise, but they don't understand what it's like living in a rural area where there can be problems."
Cornwall Superfast said it was looking at using copper wire technology or satellite technology to get superfast broadband to the 5% unable to get fibre-optic services.