Cornwall may face 'biggest bus route cuts since 1971'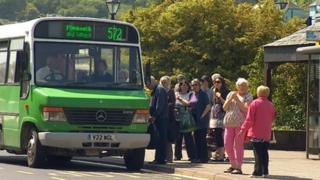 A bus users group has warned further cuts to transport funding could see the biggest reduction in rural bus services in Cornwall since 1971.
Derek Potts, from Bus Users UK, said back then 75 bus routes were withdrawn "overnight" with "major consequences".
The government is due to publish its transport budget for 2015/16 on 26 June as part of its spending review.
A Department for Transport spokesperson said the department could not comment ahead of the review.
But he said it was considering devolving part of the Bus Subsidy Operators Grant to give local authorities greater freedom to determine local bus priorities.
'Three mile walk'
Mr Potts, Bus User's UK South West spokesman, said: "In the last two years we have seen a reduction bit by bit of some routes.
"I think from April 2014 it could be a major, major reduction, the likes of which Cornwall has not seen since 1971."
Dan Rogerson, Liberal Democrat MP for North Cornwall, told the BBC's Sunday Politics South West: "We want to see the economy growing.
"Report after report has said the rural economy could generate far more jobs and could be more of a driver of the prosperity we want to see.
"In order for that to be able to happen people need to be able to get around the rural areas.
"They can't all afford to run a car."
Peter Templar, who runs the Riverside Hotel in Boscastle, said: "If there is a reduction in the bus service we would be in trouble getting staff, as it is we have trouble, it can't depreciate any more."
Sharon van der Linden, who works at the hotel, said she already has a three mile walk (4.8km) to her nearest bus stop.