HMS Somerset visits Isles of Scilly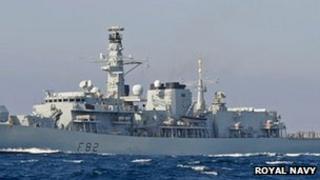 The Royal Navy frigate HMS Somerset is visiting the Isles of Scilly to mark the 70th anniversary of the Battle of the Atlantic.
The type 23 frigate, which will be in St Mary's Roads for three days, will open for public tours on Saturday.
On Sunday school children from the Isles of Scilly will visit the ship which is currently undertaking Operational Sea Training in UK waters.
HMS Somerset will be leave Scilly on Sunday afternoon.
Commander Mike Smith said: "We are delighted to be able to bring HMS Somerset to the Isles of Scilly for this short visit.
"We are honoured, too, to be able to play our part in supporting the islands' commemoration service to mark the Battle of the Atlantic 70th Anniversary and the contribution made by Scilly islanders during this long and hard-fought campaign."
Since returning from her last operational deployment in 2012, HMS Somerset has undergone an extensive docking period which has seen her weapons, sensors and machinery upgraded.