Graham Ovenden sex crimes: Review into suspended sentence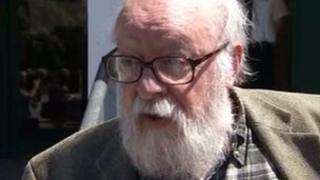 The attorney general has begun a review into whether the sentence imposed on artist Graham Ovenden was too lenient.
Ovenden, 70, from Cornwall, was spared a prison term for historical sex offences against children.
He was given a sentence of 12 months, suspended for two years, at Plymouth Crown Court on Tuesday.
A spokesman for the attorney general, Dominic Grieve, said his office had received several requests to review the sentence.
'Quite gobsmacked'
Ovenden was convicted at Truro Crown Court in April of six charges of indecency with a child and one allegation of indecent assault.
He abused the children - now all adults - while they modelled for him, the trial heard.
He was cleared on three counts of indecency and two of indecent assault.
During sentencing, Judge Graham Cottle said there was "no doubt" Ovenden had a sexual interest in children "at that time".
He added that sentencing the artist was a difficult exercise.
Judge Cottle said he had to take into account the gravity and impact of his crimes, but also his age, health and self-inflicted punishment, such as his now "severely tarnished" reputation.
After being sentenced, Ovenden told reporters he was "gobsmacked" not be jailed.
He said: "I am quite gobsmacked and I have to thank Judge Cottle for his judgment this time, but, with the language he used, one anticipated getting banged up."
If Mr Grieve considers the sentence to be too lenient, he has the power to refer the case to the Court of Appeal, which would decide if it should be increased, BBC home affairs correspondent Danny Shaw said.
Ovenden, of Barley Splatt, near Bodmin Moor, has had work exhibited in galleries across the world.
Thirty-four prints by the artist were removed from the Tate Gallery's online collection following his conviction.