South Crofty tin mine exploration 'could stop'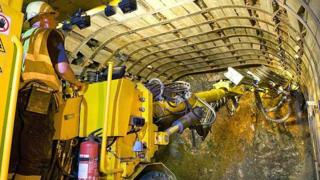 Exploration work at a former tin mine in Cornwall may stop because of rising costs concerns, investors say.
South Crofty Mine has been under redevelopment for the last 10 years.
But one of the mine's investors, Canadian firm Celeste Mining, now says it could halt further work because of higher than anticipated costs.
The firm said it was considering the move in a range of cost-cutting measures while it weighed up its future involvement in the mine.
The mine's owner, Western United Mines (WUM), employs about 50 people at the site near Camborne.
Celeste said in a statement: "The strategic review is a result of deteriorating equity markets, the financial position of the company, operational complexities and higher than anticipated exploration and development expenses at the South Crofty Mine.
"Management continues to actively engage strategic partners in an effort to explore alternative funding strategies.
"If the company and its partners cannot agree on such cost-cutting measures, the company may elect not to contribute further expenditures which could result in dilution to its interest in the South Crofty Mine."
The firm also said chief executive officer Alan Shoesmith had been replaced by Richard Kelertas.
A spokesperson for Mr Shoesmith, who is still chief executive of WUM, said he disagreed with Celeste's statement.
Mining has been carried out at South Crofty since the 16th Century but production ended in 1998 amid falling prices for tin.