Musical backing for Charles Causley's poems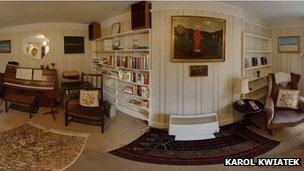 Words by the Cornish poet Charles Causley are to be set to music to premiere at a festival dedicated to his work, organisers have announced.
The Charles Causley Festival will take place in Launceston from 6 June, where he was born in 1917.
The new album has been produced by Jim Causley, a descendant of the poet.
The recording was made in February at Cyprus Well, Charles Causley's home for most of his life and uses the poet's original piano.
Jim Causley said: " It has felt like a long time in coming but with 2013 being the tenth anniversary of his death, it also feels very fitting that it should happen this year."
The festival will also feature local poets and musicians as well as film screenings.
Charles Causley who died in Launceston in 2003, won many awards for his work, including the Queen's Gold Award for Poetry.
He was made a Companion of Literature by the Royal Society of Literature in 2000.
Mr Causley's work is included in the National Curriculum for Literature.
On National Poetry Day 2012 his poem, I am the Song, was chosen to appear in lights at Piccadilly Circus in London.
The festival is run by volunteers, with support from Arts Council England, Literature Works and Launceston Town Council.
Earlier this year it was announced the former home of Cornish poet Charles Causley would be transformed into a writers' retreat.
Related Internet Links
The BBC is not responsible for the content of external sites.