Cow manure fetish man David Truscott admits threats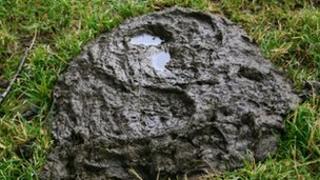 A man with a cow slurry fetish has admitted threatening to kill a family who live at a farm where he has repeatedly rolled naked in animal muck.
David Truscott, 43, formerly of Pengegon Parc, Camborne, Cornwall, is currently a patient at Langdon Hospital, Dawlish, Devon.
He also admitted threatening to destroy Woodbury House Farm near Redruth
Francis Gilbert, QC warned Truscott he was likely to be detained under the Mental Health Act.
'Harassment campaign'
Truscott has been jailed twice for breaching a restraining order and rolling in slurry on the farm.
When he was jailed in 2011, Truscott was told his "bizarre fetish and disgusting behaviour" had made the lives of farm owner Clive Roth and his family "absolute hell" for six years.
This campaign of harassment continued when he was released from his sentence last spring.
At Exeter Crown Court, Judge Gilbert remanded Truscott in custody and adjourned the case for psychiatric reports.
"It is extremely likely that the sensible outcome of this case will be a mental health act order," he said.