Lifeguards save pensioner who was 'seconds from death'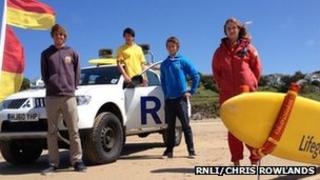 A 71-year-old man who collapsed face down in the sea in north Cornwall is recovering thanks to the "speedy response" of a team of RNLI lifeguards.
Doctors said he was just "seconds from death" when four fully clothed lifeguards ran into the sea to save him.
The man was airlifted to hospital on Wednesday.
Chris Rowlands, RNLI supervisor at Polzeath, said the "speedy response" ensured the man survived.
"The doctors who cared for him say he was only seconds from death when in the water and that thanks to the very quick actions of Luke Purser, James Bradley, Paddy Driscoll and Elise Webster, he was saved," he said.
Mr Rowlands said it was also "very fortunate" that the man's family were swimming between the lifeguarded flags at the time.