Camelford water poisoning 'to be further researched'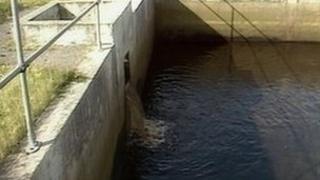 More research is to be carried out into the possible effects of the Camelford water poisoning incident on young people and then unborn babies, an MP has been told.
Twenty tonnes of aluminium sulphate were mistakenly poured into the wrong tank at a treatment works, in 1988.
North Cornwall MP Dan Rogerson said he asked public health minister Anna Soubry to further study the incident.
He said the minister gave reassurances the government wanted more research.
'Helpful' meeting
About 20,000 homes were affected when a relief delivery driver accidentally tipped the aluminium sulphate into the wrong tank at the unmanned Lowermoor water treatment works on 6 July 1988.
The chemical, used to treat cloudy water, went straight into the main water supply.
People in the area at the time reported a range of health issues, including stomach cramps, rashes, and diarrhoea.
A report - published in April by the Lowermoor subgroup of the Committee on Toxicity of Chemicals in Food, Consumer Products and the Environment - said the incident was "unlikely" to have caused long-term health effects.
However, it made recommendations for further research.
Liberal Democrat Mr Rogerson was part of a delegation from the county - which included Truro and Falmouth Conservative MP Sarah Newton and former North Cornwall Liberal Democrat MP Lord Tyler - who met Ms Soubry on Tuesday to ask for the research to be carried out.
'Long-term impact'
Mr Rogerson said the meeting was "helpful" and the minister said the Department for Health would want to follow the recommendation.
He said: "It is vital that we get to the bottom of any long-term impact on the health of people that could have been exposed to the contaminated water."
Despite the sub-group report, concerns have been raised that the poisoning did affect people's health.
Carole Cross, who died in 2004 aged 59, was living in the area at the time.
A post-mortem examination found abnormally high levels of aluminium in her brain.
Last year, West Somerset Coroner Michael Rose said there was a very real possibility the water poisoning contributed to her death, but "only a slight possibility" it caused it.