Padstow speedboat deaths: 'Kill cord not used by driver'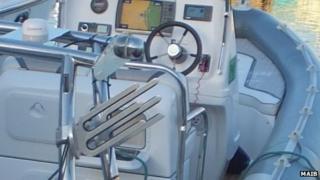 The driver of a speedboat that crashed killing a father and daughter was not wearing a safety cord which could have stopped the engine, investigators say.
Nick Milligan, 51, and daughter Emily, eight, were killed after they and the rest of their family were thrown out of their vessel near Padstow in Cornwall.
The Marine Accident Investigation Branch (MAIB) said the unnamed driver was not using the vessel's kill cord.
The cord clips the driver to the boat and cuts the engine if they fall out.
Runaway boat
Investigators still do not know why all six members of the Milligan family were flipped out of their speedboat over the May Day Bank Holiday weekend.
But the engine continued running and "as the boat circled, it ran over the family in the water a number of times", said the initial MAIB report.
BSkyB executive Mr Milligan and his daughter Emily were killed.
His wife Victoria, 39, had her left leg amputated below the knee.
Mrs Milligan and their four-year-old son Kit will need further surgery.
They have been transferred from Derriford Hospital in Plymouth to a hospital in London.
The Milligans' two elder daughters, Amber and Olivia, received minor injuries in the accident.
The runaway boat was brought under control by water skiing instructor Charlie Toogood who leapt from his own boat into the craft to turn off its engine.
A statement from the Milligan family, who own a holiday home at Daymer Bay near Padstow, said: "We are grateful for the continued support of our family and friends and the good wishes we have received from the public."
Boat owners are not obliged by law to use a kill cord but accident investigators hope the case will encourage more of them to do so.
A man whose son was killed by a runaway speedboat 13 years ago said the Padstow deaths showed new laws were needed to make the cords mandatory.
Tristan Douglas-Johnson, from Dorchester in Dorset, died at the Southampton International Boat Show in 2000 when he was thrown from a speedboat and run over as it circled in the water. The pilot was not wearing a cord.
His father Heddon Johnson said people needed to take the cords seriously because they "can save lives in this sort of situation".
Mr Johnson, chairman of Weymouth Rowing Club, said: "Even if a law making it compulsory is hard to enforce, it will make people think twice before they set out."