Sports car creator Donald Healey remembered in Perranporth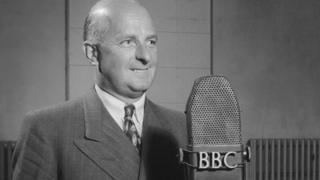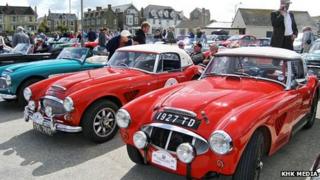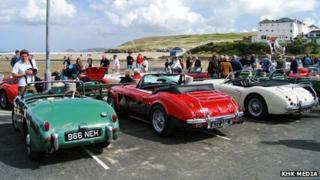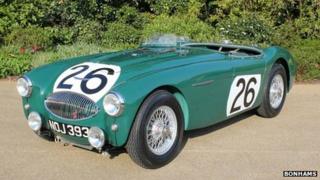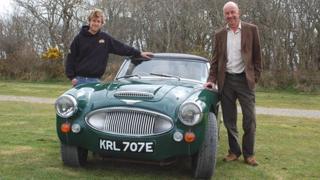 With its holiday parks and sandy beach, Perranporth attracts thousands of holiday makers each year.
However it also brings to the area sports car fanatics, retracing the footsteps of one of the resort's most famous sons.
Donald Healey was born in a small property called Woodbine Cottage, in July 1898 and grew up to become one of the most respected names in the UK car industry.
The creator of the Austin Healey sports car, he grew up in Perranporth and from an early age had a passion for inventing.
Brian Healey, his son, who still lives within walking distance of his father's birthplace, said: "He oozed enthusiasm for everything he wanted to do.
"My father did in fact make radios here in Perranporth in 1925. He also built electronic organs."
'A lovely rumble'
Even in his final days Donald Healey was still coming up with new ideas, but 25 years after his passing, it is the Austin Healey he is best remembered for.
He opened his first car garage in Perranporth in 1919.
When he won the Monte Carlo Rally driving an Invicta, the residents of the resort turned out to welcome him back as a hero.
Brian Healey said: "He always had this ambition to build a car.
"Over the years he had built up friendships with people in the business who supplied him with engines in the early days.
"Austin let him have the bits for his prototype which was a sensation at the 1952 Motor Show at Earl's Court. Austin offered to produce them, and that's how it all started."
That car was the Healey 100, which literally overnight became the Austin Healey.
Mr Healey said: "I don't think we ever thought it would become a worldwide name like it did. It's quite incredible."
The respect for Donald Healey continues through the generations with his great grandson Sam the latest to drive the marque.
"The family has got four Austin Healey's. They're great to drive.
"The little sprites are very nippy and light. The 3000 is a different car altogether with a three litre engine. It sounds really nice, a lovely rumble.
"The 3000 was a finely tuned lorry engine at the time, so it's very heavy on the steering. You jump into it and feel like you've gone to the gym.
"The tuned up rally versions could do 0-60 in six seconds and they are still very quick. The Austin 3000 did a top speed of 140mph, which back then was a very fast car."
The cars command a premium amongst collectors around the world.
A 1953-55 Austin-Healey Special Test Car/100S - realised a world record of £843,000 when sold by Bonhams in December 2011, despite being untouched since the 1960s and having been found in a barn.
It had been involved in the ill-fated 1955 Le Mans accident when 84 people died as debris was sent flying into watching spectators.
It has now been lovingly restored to its former glory, and can be seen in Perranporth at a special event to mark the 25th anniversary of the death of Donald Healey.
Sam Healey said it "was the most expensive Healey ever sold".