Feock signs removed to 'de-clutter' roads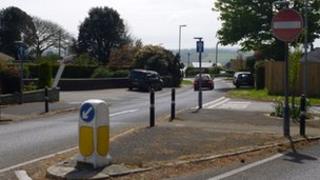 More than 170 road signs are being removed from a Cornwall parish in a "de-cluttering" exercise.
Duplicate Give Way and Road Narrows signs, as well as illegal notices, are among those being culled by Cornwall Council at Feock.
The council said it would cost £5,000 to remove the signs from the parish which has more than 860 in total.
It added that safety would be unaffected and the removal would cut maintenance and energy costs.
'Striking a balance'
Alan Truan, clerk of Feock Parish Council, said: "We have been very keen to address the effect unnecessary signage has on the rural nature and beauty of parts of the parish area."
The work in Feock is part of a trial project by Cornwall Council to find out the numbers of unnecessary road signs in rural villages.
Jeremy Edwards, from the council, said: "Striking a balance between essential signage and unnecessary clutter has always provided a dilemma for engineers responsible for highway safety."