Carmears Tramway restoration project opened in Cornwall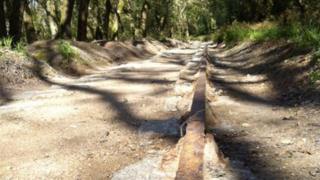 A restored historical tramway has been officially opened in Cornwall.
About 1km (0.6 mile) of the Carmears Tramway has been refurbished in the Luxulyan Valley at a cost of £30,000.
Local volunteers, organisations involved in the restoration and children from Luxulyan School gathered at the World Heritage Site to mark the completion of the project.
Granite setts [rectangular paving stones] and two lengths of rail from the 19th Century have been uncovered.
The aim of the restoration project, developed by the Friends of Luxulyan Valley, was to improve pedestrian access between the valley's Treffry Viaduct and the wheel pit.
'Historic value'
Funding contributions were made by numerous bodies, including the Friends of Luxulyan, Cornwall Heritage Trust and the China Clay Local Action Group.
The horse-drawn Carmears Tramway was built in the mid 1800s by Joseph Treffry as part of his plan for a trans-peninsular tramway to carry granite, china clay, coal and lime between Par and Newquay.
The last section of tramway from Carbeans Quarry over the Treffry Viaduct to Luxulyan station was removed in 1940.
Friends chairman Christopher Tigg said the work had provided a real insight into the tramway's construction and a greater understanding of its original purpose - as well as a better walking environment for visitors to the valley.
'Archaeological gem'
He said the restored section was one of "probably only a handful in the country" where the original tram rails could be seen in situ.
Crushed granite excavated from the valley has been used as "top dressing" to improve the path for walkers.
"It's a beautiful walking surface and an archaeological gem for those that are interested in horse-drawn tramways," he told BBC News.
Steve Double from Cornwall Council said Luxulyan Valley was a place of historic and natural value.
"It is so important that we protect and where possible enhance Cornwall's natural and historic environment for future generations to enjoy," he said.