Royal Cornwall Hospital ambulance waiting crisis 'over'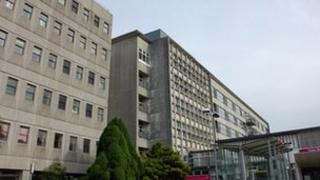 An ambulance admissions waiting crisis at the Royal Cornwall Hospitals Trust (RCHT) should be over, managers say.
It comes a month after hundreds of emergency patients had to wait hours to be treated.
However, the hospital trust said a backlog of non-emergency, planned (elective) operations was expected to reach 400 by the end of the month.
It added that operations would take place on weekends and bank holidays in order to bring the numbers back down.
'Additional beds'
In March, more than 300 ambulances had to wait more than half an hour before delivering their patients to hospital staff.
This was the Royal Cornwall Hospital's worst month since such data was first recorded more than two years ago.
Within the hospital's emergency department itself, the trust failed to meet its target for patients spending more than four hours there.
Graham Webster, a public governor at the Royal Cornwall Hospital Trust (RCHT), said at the time: "Our acute hospitals in Cornwall have gone into crisis."
Managers at the trust put it down to a combination of the norovirus outbreak, which led to six wards being closed in March; delayed discharges from other parts of the hospital; and an increase in older patients with complex needs.
Medical director Dr Paul Upton said: "We've opened up additional beds. We've been forced to cancel elective operations so that we can maintain the flow of patients that are brought in by ambulance.
"When patients have had operations cancelled they will be disappointed. What we're doing is we're booking them in as quickly as we can to get their operations done."
Jo Gibbs, the trust's operating officer, confirmed the Royal Cornwall Hospital was now free of norovirus.