Twenty Bodmin Moor ponies 'die from neglect'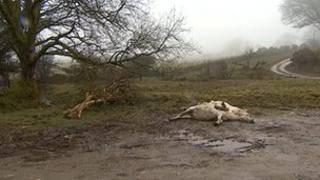 More than 20 ponies on Bodmin Moor have died or been put down due to neglect during just one week, a group representing landlords and owners says.
At least one animal is believed to have died while foaling and many others were extremely emaciated, the Bodmin Moor Commoners' Association said.
Government vets put the animals down. It is not known who their owners were.
The association said the majority of animals were looked after responsibly, but such deaths were becoming a trend.
Most of the ponies roaming on Bodmin Moor are in herds and the owner of each herd is traditionally known as a commoner.
Julie Dowton, of the commoners' association, said the affected animals had been were a "horrific sight".
"It was neglect, and the farming community is distraught.
"Some [ponies] were put down because government vets said they were too weak to come off the moor [for treatment].
"This should not be happening. It's embarrassing for Bodmin Moor, it's embarrassing for Cornwall."
A further 30 animals are to be inspected on the moor, she added.