Land's End Airport opens new £1m passenger terminal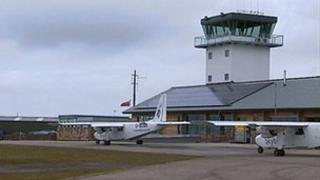 A new £1m passenger terminal has opened at Cornwall's Land's End Airport.
The airport is the mainland departure point for flights to the Isles of Scilly.
The work has been carried out by the Isles of Scilly Steamship Company (ISSC) which operates Skybus flights year-round to St Mary's.
The ISSC has recently acquired a new Twin Otter aircraft, which will be brought into service later this month, bringing its fleet up to seven.
The company has also invested £2 million into upgrading facilities on board the passenger ferry Scillonian III, which sails to St Mary's from Penzance.
It said 50 new full-time and seasonal jobs had been created as a result of the investment.
Jeff Marston, the company's chief executive, said: "This investment has been aimed at improving the travel experience for customers, whether they are travelling by air or by sea."
In December, flights between Cornwall and the Isles of Scilly were forced to take off from Newquay Airport because of a waterlogged runway at Land's End.
ISSC is now the sole provider of commercial flights to the Isles of Scilly after British International Helicopters stopped its year-round service in October after running into financial problems.