Polzeath safety fear for rookie surfers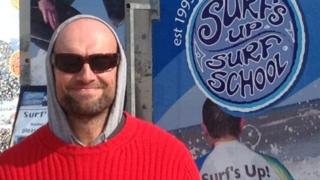 A Cornwall surf school fears the safety of novices could be put at risk from an increased number of learners in the water.
Cornwall Council is offering a seven-year lease to a surf school or a surf hire firm in the resort of Polzeath.
Surf's Up said if another surf school moved in there could be up to 300 learners vying for space.
The authority said its proposals would regulate surfing in Polzeath and "help promote water safety".
Surf's Up, which was founded by Pete Craske in 1995, is one of two surf schools in Polzeath, but it is the only one in the council-owned car park at the top of the beach.
'Value' for taxpayers
Cornwall Council has invited Mr Craske to retender for the lease, for which he pays £20,000 a year.
And it also said that it would be offering another lease to a new business in the car park.
The tender document says: "The opportunity excludes the sale of goods and catering but does include the provision of services, such as surf tuition, surf hire etc."
Mr Craske warned that surf schools would be "trying to find space in the water".
Mr Craske said: "We knew the tender would happen, but it is the fact that it would go from one licence to two licences.
"It's absolutely vital for the future that Polzeath keeps its reputation as a safe family surfing beach."
He added: "Competition is a good thing. That's not the issue here. It's safety."
Cornwall Council said in a statement that it had received a number of requests to trade in the car park and it had to ensure the "best possible value" for council taxpayers.
It said that establishing a licensed framework for surf tuition on the beach would allow it to set minimum standards for surfers and this will also help promote water safety.