Carlyon Bay campaigners meet at 'ruined' beach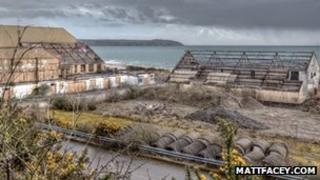 Demolition work at a Cornish beach by developers who want build a £250m housing complex has damaged tourism. campaigners have claimed.
Carlyon Bay Watch staged a demonstration at the beach near St Austell over what they call "10 years of devastation".
Protesters say the bay has fallen into decay since a development project stalled.
Developers said they hoped the situation was temporary.
'Shocking mess'
Anne Langley, one of those attending the demonstration, said: "I am dismayed at the state of our local beach. It used to be a thriving community down here.
"It was ideal for families. It's absolutely disgusting, they've done nothing with the site."
Planning permission was first granted in 1991 for housing ear St Austell. Sea defences were originally built to protect the apartments and construction workers.
When developers applied to upgrade the defences, opponents claimed they were unsafe and could damage the environment.
The plans were rejected following a public inquiry in 2006.
Peter Browning, a member of Carlyon Bay, said: "We want to see the developer clean up this shocking mess. We've had 10 years of this."
Developers Commercial Estates Group want to build a complex that would include 500 apartments.
Jon Kenny, development director of the company, said: "Our aim to start build as soon as possible has been hampered by nearly 10 years of planning delays and now we are in the midst of this difficult economic downturn.
"We've accommodated visitors to the beach by providing public toilets, maintaining parking facilities and offering a dog waste collection service.
"It's a brownfield building site that has been stalled by economic circumstances and we have to manage that process as best we can."