Cornish K9 dog rescue charity at 'saturation level'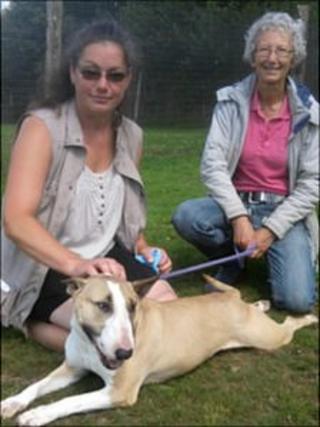 A Cornish dog rescue centre has said it is at "saturation level" looking after animals that owners can no longer afford to keep.
K9 Crusaders, based in Bissoe, near Truro, is currently caring for 50 dogs and has others in emergency kennels.
It said it was getting about 10 calls a day from people needing to re-home dogs, many of them pedigree breeds.
Volunteer Kate David said some people were "heartbroken" at having to give up their pets.
Mrs David said: "It's people losing their jobs, or having to change their working hours or go into private rented accommodation where landlords don't allow pets.
"These are Labradors, wolfhounds, labradoodles, cocker spaniels; they are pedigree breeds, not your average mutts.
"We've had people breaking their hearts at the kennels."
The charity has recently raised enough money to build 10 new kennels, but Mrs David said these were already filling up and there was a waiting list.
"We will take urgent care of animals if they're in a PTS [put to sleep] situation," she said.
"If someone is losing their home and they've got nowhere to put their dog then their only option is to put them to sleep.
"We have a non-euthanasia policy so we don't put animals to sleep."