Cornwall's soaring bill for landfill waste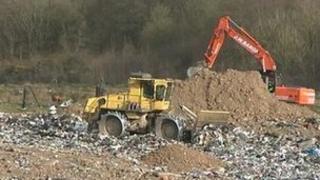 Cornwall's tax bill for dumping rubbish in landfill sites has soared by £7m over the last decade.
The council handed over £10.4m in penalties after sending 185,000 tonnes of refuse into the ground in 2011-12.
However, the amount of rubbish being sent to landfill is reducing - but the cost of taxes is increasing.
The EU brought in the taxes to reduce the amount of rubbish being dumped and encourage councils to find other ways of tacking waste.
Councillor Lance Kennedy said the Conservative-Independent authority was doing what it could to encourage households to recycle as much as possible.
He said: "We recently were awarded a £1.5m government grant which will allow us to start working on recycling all plastics, more wood, and food as well."
The Treasury said the money raised by the landfill levy was an important contribution to central government funding which, in turn, helped pay for councils' core services.
Connon Bridge is currently the only landfill site where county household waste is taken.
Operator Sita recently applied to keep it open until 2036, but a council planning committee decided it should close in 2018.