Norovirus 'crisis' at Royal Cornwall Hospital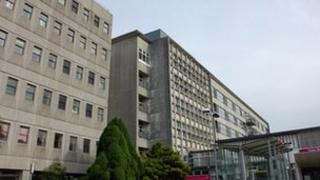 The Royal Cornwall Hospital is currently in "crisis", one of its governors has said.
Up to 20 operations a day are being cancelled at the hospital in Truro following an outbreak of the norovirus winter vomiting bug.
The hospital has implemented its "internal major incident" status in order to make more resources available.
The hospital's medical director said the situation had got "particularly worse" over the last week.
As well as operations being cancelled some wards have also been closed to new admissions, leading to fewer available beds.
Graham Webster, a public governor at the Royal Cornwall Hospital Trust (RCHT), said: "Unfortunately the system isn't working.... our acute hospitals in Cornwall have gone into crisis.
'Exceptional circumstances'
"When we're faced with the problems of norovirus and delayed [patient] discharges the system can't cope.
"We don't have enough spare capacity or resilience to cope with these pressures."
Mr Webster praised RCHT staff who, he said, had been "trying to manage under exceptional circumstances."
Some patients have been angry that planned operations have been cancelled.
One woman who had been due to have gynaecological surgery told BBC Radio Cornwall: "You psych yourself up, it's not a minor operation, it's a huge operation.
"It took a lot of sorting out, getting cover for my job etc.
"There was not even 24 hours notice, that's what I think enraged me more than anything else."
Paul Upton, RCHT medical director, said: "The hospital's been under pressure for the last few weeks but it's got particularly worse over the last week."
He said the problems had been caused by a combination of a high number of patients being admitted, inability to discharge some patients quickly enough and the norovirus outbreak.
Mr Upton apologised about the cancelled operations but said: "In the circumstances I think it's important we treat those coming into the hospital who are acutely ill in preference to those who are having elective operations, however serious in their nature."
He said he hoped cancelled operations would be rescheduled "as soon as possible" to take place within a month.