Councillors vote in favour of second home planning permit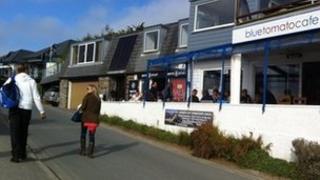 Councillors have voted in favour of Cornwall homeowners being forced to ask permission to use their property as a second home or holiday let.
More than 14,000 of Cornwall's 260,000 properties are second homes.
Cornwall Independent councillor Andrew Wallis said if it "gets past government" it could bring "regulation into an unregulated market".
Mr Wallis said: "If you have a little bit of control, you can protect communities."
In some areas, more than 40% of houses were second homes, according to the council figures released last month.
Mr Wallis said he had never been against second homes but added that changing the use of a house to a holiday let or second home should require planning permission in the same way as changing a shop into a house.
'Costly legal problems'
Chris Wood from PDQ Properties in Helston disagrees with the council's decision.
He said: "If they have to provide planning retrospectively, it's going to create all sorts of costly legal problems for the council.
"If it's going to be for future applications only, then it could well create a two-tier market with those that already have planning permission increasing in value rather than pushing down properties that don't.
"I don't think it's necessarily going to achieve the result it wants to achieve."
Nigel Pickin from Cornish Cottage Holidays said 66% of his client base were second homeowners "living in Cornwall".
"Legislation that puts a barrier to entry to potential owners and upsets the status quo is a silly thing in my view."
The parish of St Minver Lowlands, near Rock, has the highest proportion of second homes in the county, at 42.9%.
Mr Wallis said: "Anything over 20% [of homes in an area not permanently occupied] can have an impact on the community.
"If you have a little bit of control, you can protect communities - schools and the pub are saved."
"We've got to look at the sustainability of our communities, it's about bringing some sort of regulation and protection into the area."