Cornish coastal mining plans could 'cause damage' campaigners claim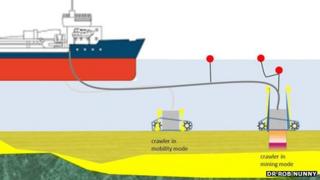 A multi-million pound proposal to begin mining the north Cornish coastline could have a serious impact on the local ecosystem, campaigners fear.
Marine Minerals Limited said its plan to collect tin from the seabed is eco-friendly, and could bring dozens of jobs to the county.
Opponents are worried the mining could cause irreparable damage.
Plans have been submitted to begin exploratory drilling on a stretch of coastline from St Ives to Perranporth.
'Careful process'
The £15m plan would see the Cornish company digging up sand to extract valuable tin, which washed out over the years from the numerous old mines on the north Cornwall coast.
Dan Jarvis, from the Cornish Seal Sanctuary at Gweek in west Cornwall, said: "We're really concerned, it is an important habitat for our grey seals.
"If there's activity on this scale taking place, it's going to discourage them from using this area for breeding through the winter especially."
The company behind the plans said work would only proceed if "any project can satisfy stringent commercial, environmental and social requirements."
Christopher Davies, a spokesman for Marine Minerals Limited, said: "We're a Cornish company so we want to know can this be done in a way that is environmentally acceptable and practical.
"We think it can but we want to do our proper environmental study to look at the factors that could be affected. We have rejected utterly the idea of it being traditional dredging. It needs to be a much more careful process."
Andy Cummins, campaigns director at Surfers Against Sewage, said: "It's not a comfort for recreational water users or the tourist industry, or for the animals or wildlife in the sea."
A public consultation on the plans will close on Friday.