Perranporth airfield up for sale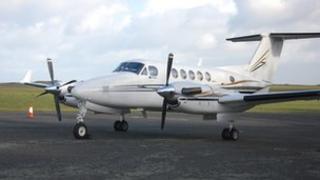 An airfield which boasts views of the north Cornwall coast is for sale for £1.49m.
The sale of Perranporth Airfield, which has been in existence since World War II, has already attracted a lot of interest, according to the agents managing the sale.
Once used by Spitfires it hosted 18 Squadrons throughout the war.
The Perranporth Flying Club has leased the airfield, in various guises, since 1957.
Ben Ellis, a flying instructor with the club, said: "Perranporth Flying Club's main aim is to promote participation in flying, and to encourage people from the local community to get involved."
In a huge hangar, built less than 10 years ago, about 30 planes are parked up. Many take off from the airfield regularly, others are at the base for maintenance work.
History 'preserved'
In 2011 there were about 7,000 aircraft landings, as well as the ongoing use of the airfield for gliding.
At 135.1 hectares (333.8 acres) the airfield has three tarmac runways, a control tower dating back to the 1940s, a fire station and various underground structures from the decade.
Mr Ellis said: "We have original 1941 secure areas where a Spitfire could be tied down against the elements, and also against enemy action. There's an air-raid shelter nearby. The construction of the shelter is exactly as it was in 1941."
Kay Griffiths, from Savills Oxford, who are handling the sale, said: "There's been a lot of interest. They don't come up for sale often."
Although it is not known what a future buyer would want to do with the airfield, Mr Ellis is hopeful it will continue as a working airfield, with a nod to its links with the Spitfire.
He said: "We hope that maybe, just maybe that history will be preserved here.
"We're not sure what the plans might be, but it's just possible we may see some more Spitfires here in the future."