Royal Cornwall Hospitals staff to be consulted on job loss plan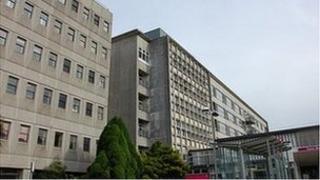 A consultation has begun with staff at the Royal Cornwall Hospitals NHS Trust over plans which include a possible 700 job losses.
The trust's board said the aim was to make sure it could compete in a health service where fewer people were treated in hospital in future.
The Royal College of Nursing said it was worried about effects on patients.
The trust said it believed the majority of those leaving would find jobs elsewhere in county health services.
'Really transparent'
Last week, the trust approved proposals in the report, titled "Our People", which said it needed to change the way the hospital works because health care was "changing radically".
Sally Mountjoy, BBC South West's Health Correspondent, said increasingly people are being looked after in community hospitals, by GP practices, or even at home via "telehealth" monitoring.
The report also said costs were high because half of current staff were at the top of their pay scale.
Douglas Webb, a non-executive director from the trust, said: "More care will be provided [which] will be closer to people's own homes, or in community hospitals."
Cornwall's 14 community hospitals are run by the Peninsula Health Community Interest Company, a not-for-profit organisation.
Mr Webb said: "Naturally staff will need to transfer from one organisation or area to another in order for that to happen.
"We have started on a strategy that is really transparent and we can talk to staff about this.
"I think their will be some trepidation, but this is a five-year strategy. That gives us plenty of time to talk to the staff and partners like the Royal College of Nursing."
Jeannette Martin, the regional director of the Royal College of Nursing, said managers had to ensure new services were in place or staff had already been transferred before any changes were introduced.
She said: "Fine, take the brave and bold decisions. But don't make it so patients can't come to hospital and then eventually the services will be put in place.
"That would mean people will not be able to get the care they need."
The trust said nothing had been decided about jobs, but added that, with a future of fewer patients expected to be heading to the county's main hospital, it could not sit still and do nothing.
It said it wanted to safeguard employment by ensuring it remained "a competitive organisation", but one with "an affordable pay bill".