Poet Charles Causley's Launceston home secured with funding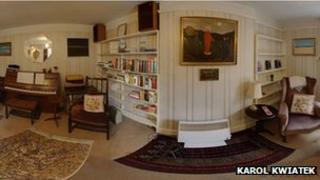 The former home of Cornish poet Charles Causley will be transformed into a writers' retreat.
Funding from the Arts Council England, Cornwall Council and Launceston Town Council will pay for renovation and structural repairs.
Mr Causley's poetry brought him many awards including The Queen's Gold medal and the TS Eliot award.
The poet, who died in 2003, spent most of his life living in Launceston, in north Cornwall.
'Causley's dream'
The Charles Causley Trust, which was set up just before the poets' death, purchased his Launceston home in 2007.
The trust has spent 18 months securing funding to bring the house back into use.
Ken Stanton, the chair of the trust, said: "We are overjoyed and delighted that we can now fulfil Causley's dream for his house to be used to support poets and writers."
Mr Causley received the Hon D.Litt from the University of Exeter, where his archive is now held.
He was made a CBE in 1986 and a Royal Society of Literature Companion of Literature in 2000.
Much of his work was a celebration of Cornish and Launceston life, character, history and legend.
Mr Causley's work is included in the National Curriculum for Literature.
On National Poetry Day 2012 his poem, I am the Song, was chosen to appear in lights at Piccadilly Circus in London.
Rita Skinner, town clerk at Launceston Town Council, said: "Launceston has always been very proud of Causley's connections with the town.
"We hope that it will really establish Launceston on the cultural map."
The trust said the poet's former home would also be "a centre to celebrate his life and writing and promote new literature activity in the community and region in which he lived."