Funding aid for south west flood defence schemes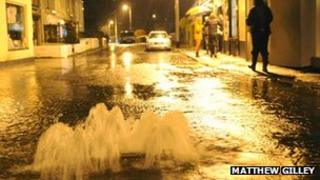 Flood Defence schemes in Cornwall and Devon are to receive about £720,000, according to the Environment Agency.
The money will be used to develop new schemes to compete for funding from the central government budget, allocated by Defra.
The announcement has been made by the agency's regional flood and coastal committee, which is made up of representatives from Cornwall, Isles of Scilly and Devon councils.
The funding is 20% more than last year.
'Repeated flooding'
The money will be raised through an existing levy on the council tax.
Heavy flooding affected Cornwall and Devon during November and December, with communities like Helston, Millbrook, Looe and Mevagissey in Cornwall and Colebrook and Braunton in Devon being particularly badly hit.
James Morrish, the chair of the south west flood defence committee, said: "We can only go on what has happened. I believe that councils being able to put in funds to support flood defence can only be a good thing."
Earlier in January the Cornwall Community Flood Forum announced it was sending information cards to about 10,000 households, advising them to "be prepared" for flooding in the future.
In Devon, Colebrook, which has flooded six times in the last year, residents have been told work to tackle the problem could start in 2014.
The list of flood defence projects to be funded by the levy and national funding will be confirmed at the Environment Agency Board meeting on 8 February.