Safety device call after scalding in St Austell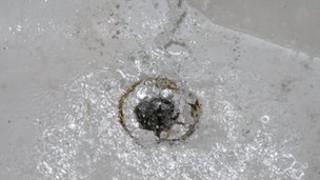 A bath scalding case in mid Cornwall has prompted calls for safety devices to be fitted as standard.
A Health and Safety Executive prosecution found a landlord and a care agency failed to control water temperature when a man with learning difficulties suffered severe burns.
It was described by a judge as an "entirely avoidable consequence".
Cornwall Council said since the incident in 2008 it is monitoring service providers more closely.
Reg Broad, the chair of East Cornwall Mencap, said: "When you read it in print, he was scalded to the point of skin coming off. They took him out, put some cold water in, and put him back in again. You read that and you're horrified."
The case involved the care of Paul Cundy, 64, who lived in a house for people with severe learning difficulties.
Mr Cundy who suffers from cerebral palsy and epilepsy, in addition to his learning difficulties, is unable to talk and needs help with all aspects of daily life.
On 27 December 2008 he was lowered twice into a scalding bath in St Austell, but he was unable to say that his bath water was too hot or to get out unscalded.
Mr Cundy was hospitalised for four weeks.
The HSE case centred on a device called a thermostatic mixing valve or a TMV - which mixes hot and cold water together to reduce the possibility of a scald.
This was missing in the St Austell case, it had been removed in 2002 and despite being reported missing four times nothing was done.
Mr Broad is calling for the council to check to ensure all houses where people with learning difficulties are cared for to have thermostatic mixing valves fitted.
While there is no legal requirement for the landlords of such properties to install the valves, which cost about £40, the judge ruled there was no system in place to protect the residents from hot water scalding.
The investigation found the landlord of the property and the care provider had failed to ensure Mr Cundy and the other residents were not exposed to risk.
The property is owned and managed by the Cornish charity Comhome - they admitted an offence under the Health and Safety at Work Act and were ordered to pay £44,000 in fines and court costs in December.
No one has been available for comment as the charity says "there is an ongoing claim for compensation."
Robinia Care was also involved, employing agency staff to provide the 24 hour care of Paul Cundy. It was then renamed Solor Care, and in April 2012 it was taken over by Voyage Care, who inherited responsibility for Mr Cundy's case.
It also received a fine of £10,000. In a statement Voyage Care said they wished to "express to Mr Cundy its sincere regret, on its own behalf and own behalf of Solor's former management team. The events that occurred were completely unacceptable."
Voyage Care added: "We would like to reassure both current and future residents, Voyage Care has a reputation for quality and high standards as evident by our CQC compliance scores."