Carbon monoxide poisoned family 'extremely lucky'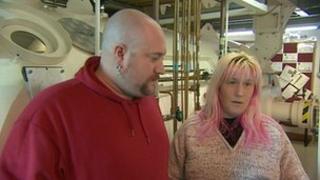 A family who suffered carbon monoxide (CO) poisoning said they were "extremely lucky" to have survived.
Liz Boult, her sons - Charlie Prewett, seven, and Ollie Prewitt, four - and Ms Boult's partner, Richard Harris, were poisoned at their home in Canworthy Water, near Launceston in Cornwall.
A wood-burning stove is thought to have produced potentially lethal CO levels, fire officers said.
Ms Boult said: "We could have lost everything."
The four were described by fire officers as "minutes from death" when they managed to get out of their home in the early hours of Wednesday.
Ms Boult got Ollie out first, but Mr Harris and Charlie were inside longer.
Mr Harris said: "I collapsed and couldn't move a muscle. It seemed like a lifetime sitting there.
"Somehow I got some strength and dragged him out."
Ms Boult: "We could have lost everything. I don't know how we got out of the house."
All four were taken to Plymouth for treatment for inhaling the colourless, odourless gas, which reduces the blood's ability to carry oxygen.
Ms Boult and Ollie were later discharged from the city's Derriford Hospital.
Charlie and Mr Harris were further treated in a hyperbaric chamber at the nearby Diving Diseases Research Centre (DDRC).
They were later discharged from the centre.
Poppy, the family's boxer dog, raised the alarm, although it is not clear whether the family pet detected the gas, or was barking because she was unwell.