Isles of Scilly ferry and air service in £1m expansion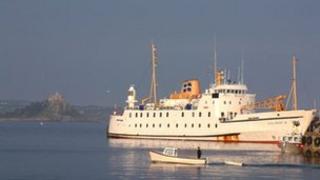 A ferry and air service between Cornwall and the Isles of Scilly is to expand its operation as part of a £1m scheme, managers say.
The Isles of Scilly Steamship Company runs the Skybus service and the Scillonian ferry.
It said the expansion would create 50 new jobs, as well as see it take on a new plane, build a new terminal at Land's End and refit two ships.
The jobs created include 10 pilot posts and six fire officers, it added.
The scheme would see the refit of the Scillonian III passenger ferry, which sails for seven months of the year, and the Gry Maritha freight ship, managers said.
The company's fleet of Skybus aircraft would increase from six to seven, they added.
The announcement comes after the closure of the rival British International Helicopter (BIH) service from Penzance.
BIH stopped its year-round service to Scilly on 31 October after running into financial problems.
Steamship Company chairman Andrew May said the expansion plans could be seen as part of a "joint response" by the company, islanders and businesses in Cornwall which was "giving optimism for the future".
He said: "We think the response we and the islands are making has to be taken as a whole.
"The steamship company is stepping up to the plate, and doing what it's doing.
"But, looking around, we're seeing lot of other businesses and accommodation providers doing their bit as well."