Cornish language manuscripts to be preserved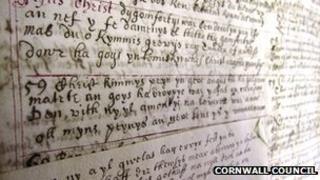 Two Cornish manuscripts dating back as far as 1688 will undergo "much needed" conservation work this spring.
A grant from the The National Manuscripts Conservation Trust will restore the documents, by antiquarians William Scawen and William Borlase.
The manuscripts, described as "fragile documents", will be restored by a conservation company in Penzance.
The restored works will be available to be read by the public at the Cornwall Record Office later this year.
'Historically important'
Scawen's manuscript, called Antiquities Cornubritannic was written in 1688.
It contains a version of the Cornish language poem Passio Christi, as well as an examination of the contemporary decline of the Cornish language.
Professor Mark Stoyle from Southampton University, who has studied the manuscript in detail, said: "I am delighted that these historically important and fragile documents will now be preserved in the best possible condition."
Borlase's document, called Memorandums of the Cornish Tongue, from 1750, is described as an "early example of a Cornish grammar and vocabulary study which resembles a Cornish dictionary".
The texts were never published and their rarity means that they are key sources for people studying Cornish language, literature and the lives of the authors.
The conservation work will be carried out by PZ Conservation, a Penzance based community interest company, using the grant of £3,300 from the National Manuscripts Conservation Trust.