Five Islands School on the Isles of Scilly downgraded by Ofsted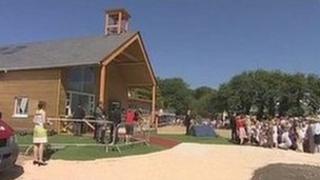 An Ofsted report has downgraded the status of the Five Islands School on the Isles of Scilly.
Pupil achievement, teaching and overall behaviour are good or outstanding but Ofsted said leadership and management "requires improvement".
Ben Julian, the chair of governors, said the report agrees with their own private findings in September.
He said he is confident when the inspectors return in 2014, they will see an improvement.
'Significant changes'
School inspectors returned to the Five Islands School, in November, just two weeks after their last visit.
At the time Ofsted said return visits happen "from time to time" and inspectors would be gathering "further evidence to complete that inspection".
In its report Ofsted said "Significant changes in senior leadership and governance since the last inspection unsettled staff and the school community, hindering the rate of improvement in the school."
Former Five Islands School head Bryce Wilby, 46, was suspended in May 2012.
Mr Wilby left his post after allegations of financial irregularities, which he has always strongly denied.
Ofsted went on to say: "Although there is more stability in leadership and governance, these are not fully developed and have not had sufficient impact on the drive for improvement."
"Requires improvement" means Five Islands School has four years to ensure everything is "good" or "outstanding" or special measures could be introduced.
Mr Julian said: "In many ways the verdict we were given mirrors our self-evaluation.
"What I would say are the really important bits of the school, the standard of the teachers, the achievement of pupils, the behaviour of the pupils are all ones and twos which is brilliant."
A year ago education watchdog Ofsted changed the "satisfactory" rating to "requires improvement".
Ofsted's chief inspector, Sir Michael Wilshaw, said at the time, he wanted to send a message that "satisfactory" was now unsatisfactory and that more schools should be pushing for the higher rating of "good".