Councillor resigns over 'lie detector' fears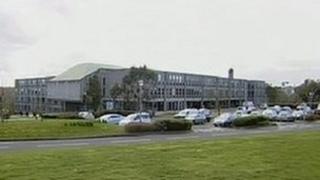 A senior councillor from Cornwall's cabinet has resigned over an alleged plan to use what she has described as "lie detector" technology.
Councillor Fiona Ferguson said she was unhappy about the monitoring of phone calls to claimants of single-person's 25% council tax relief.
The council said contractor Capita would be reviewing people receiving the discount using specialist technology.
It added it wanted to prevent abuse of the system.
Portfolio holder for corporate resources Ms Ferguson, who had only been in the post for two months, announced her resignation in an email to Conservative-Independent council leader Jim Currie.
In it, she said: "It came to my attention that the contract let to Capita (before I took up my portfolio duties) to survey claimants of the single person's council tax relief will include the use of 'Voice Risk Analysis' (VRA) techniques when making phone calls to claimants.
"These techniques are sometimes called 'lie detector' tests."
According to Capita, who dispute the phrase "lie detector test", "VRA analyses, in real time, changes in voice frequency" which are then assessed by "trained operators" to identify possible bogus claimants.
The company has previously used the technology, combined with other techniques, in a similar review of single person council tax discounts in Derbyshire.
Ms Ferguson, who is leader of the Conservative group, said she had no reason to believe Councillor Currie was aware of this aspect of the contract, but added she thought it was extremely damaging to the council's reputation and she could not accept it on ethical grounds.
Ms Ferguson said she would be launching a petition to require any use of this technology to be approved by full council.
Mr Currie released a statement saying: "While I am aware of Fiona's views over the issue of voice recognition software, the use of this technology is a key part of the review of council tax single person discount which is being carried out by Capita."
The council said it had entered into a £50,000 contract with Capita to carry out a review of all council tax payers receiving the single-person benefit.
It said telephone interviews would be carried out with a number of claimants to verify the details they had provided, and that trained assessors would "use specialist technology to assist with the process".
It added: "All claimants will be advised that the calls will be recorded, monitored and used for fraud prevention purposes."