'Low risk' ash dieback confirmed in three Cornish sites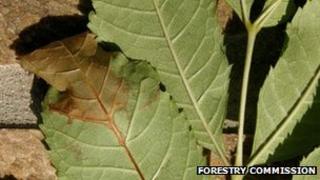 The fatal tree disease ash dieback has now been officially confirmed at three sites in Cornwall, but the Forestry Commission says they are low risk.
It has been identified in saplings which are not in the "wider woodland environment".
The Forestry Commission says while other parts of the UK have high numbers of cases, Cornwall has seen few cases.
The commission said it would not see the true extent of the problem until the disease became active in spring.
'Limited risk'
The confirmed cases are near Wadebridge, Looe and Camborne.
Bruce Rothnie, the commission's Plant Health Team manager for England, said: "There's a limited risk at the moment of spread from those sites in Cornwall.
"If we feel there's a further risk we will get to them before the main season when the fungus starts to sporolate and generate spores."
The commission said the disease caused leaf loss and dieback of the crown and usually led to tree death.
The majority of ash dieback have been concentrated in south-east England including Norfolk and Suffolk and Kent.