Isles of Scilly subsidised ferry plea rejected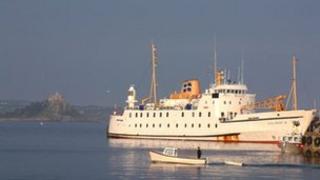 Renewed appeals for subsidised transport to the Isles of Scilly have been rejected by the government.
Norman Baker, the transport minister, said more time was needed to give companies and the Council of the Isles of Scilly a chance to "fill the gaps".
The news comes as a blow to businesses who say holiday bookings are down.
A waterlogged runway has meant no passenger flights to the islands from Land's End for five weeks. The service is currently running from Newquay.
British International Helicopters (BIH) stopped its year-round service to Scilly on 31 October after running into financial problems.
Figures obtained by the Friends of Isles of Scilly Transport group (FRIST) show that Land's End has been closed for 55% of the time since October.
'Marked reduction'
The group said the last passenger flight from Land's End was on 18 December.
The airport was a victim of the flooding during November and December.
Further rain has fallen on already saturated ground, making it too wet to operate scheduled services from the airfield.
Plastic matting is to be installed over the grass surface of the runway to allow flights to resume, with an inspection due this week.
Skybus has put on extra flights from Newquay, but local businesses on the island believe an all-year-round subsidised ferry link is the long-term solution.
In the 1960s, the economy on the Scottish islands was on the verge of collapse before transport subsidies were agreed.
Doreen Capper, who runs a hotel near Penzance, said: "I have seen a marked reduction in the number of bookings from Easter onwards. Normally we do a lot of trade with people who are going over to the Isles of Scilly.
Mrs Capper said she had lost 25% of her normal summer bookings.
The Isles of Scilly Steamship Company runs the Skybus service as well as the Scillonian ferry, which sails for seven months of the year.
'No ongoing subsidy'
Andrew May, the chairman of the company, said: "We're flying everyday [from Newquay].
"The Scillonian ferry will be sailing three or four times a week, then daily, within two months. We're in a period of extreme weather and difficulty, but we're optimistic."
In a statement, Mr Baker said: "Historically, the private sector has provided transport services without ongoing subsidy, and the Steamship Company appears to be considering additional investment to fill the gaps in provision.
"It is also open to other companies to step in and the Council of the Isles of Scilly, as airport operator, is looking into that. We need to give these developments every chance to succeed."