Cornwall roads ice warning as temperatures drop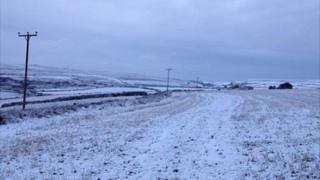 Gritting crews in Cornwall have been out across the county to reduce the risk of ice.
Temperatures dropped to -3C (27F) in east Cornwall on Sunday night, BBC Weather said.
On Monday morning, snow was settling in some areas west of Truro, but was likely to clear later, it added.
The Met Office has issued a yellow warning of ice for South West England which it said is in place until 23:55 GMT on Tuesday.
On Friday, snow was reported on Bodmin Moor and in Liskeard.
The enhanced content on this page requires Javascript and Flash Player 9
Map Key
Land
Cloud
Lakes, Rivers & Sea
Fog
Light
Heavy
Frost
Light
Heavy
Pressure Fronts
Cold
Warm
Occluded
Rain
Light
Heavy
Extreme
Snow
Light
Heavy
Temperature tab only
Temperature (°C)
More details from BBC Weather