Isles of Scilly finance director claimed 'extreme expenses'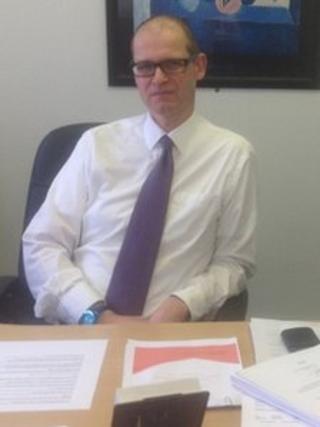 A senior council officer on the Council of the Isles of Scilly has defended claiming £18,000 in expenses.
The amount - claimed in the year to April 2012 - was revealed following a Freedom of Information request.
Peter Lawrence-Roberts, finance director, admits the amount sounds "extreme", but all claims are legal.
However, the maximum amount of expenses claimed by senior council officers in other local authorities in the South West ranged from £4,000 to £10,000.
Devon County, Torbay, Plymouth and Cornwall authorities all have officers in similar senior positions, claiming less than £10,000.
'Family responsibilities'
Mr Lawrence-Roberts was employed by the council in 2007 and, at the time, negotiated paid travel back to his Exeter home as part of his contract.
Since then the father-of-two has divorced and is now in a civil partnership with someone on the island of St Mary's.
However, he maintains the house in Devon is still his main residence.
"I still have children on the mainland and I still have a very elderly mother with dementia for whom I'm the only living relative and that obviously brings certain responsibilities," he said.
Mr Lawrence-Roberts is paid expenses to fly from Scilly to Newquay each weekend. Car parking charges and mileage from Newquay to Exeter are also covered, as is the return journey on a Monday.
With the internet and modern technology, he said it was unnecessary to live permanently on Scilly.
He admitted the amount of expenses was "significant", but said he only claimed what he was entitled to.
"Anyone who's looked at this, despite being aghast at the sum, will support the fact that I only claim what I'm entitled to," he told BBC News.
His expenses have been cut by "thousands of pounds", he added, by reducing his accommodation costs and negotiating a favourable rate to fly directly to and from Exeter.