Isles of Scilly in rat removal project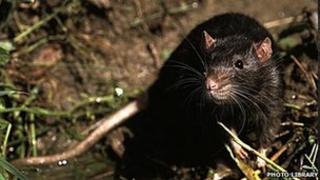 Rats will be killed on two islands in the Isles of Scilly as part of a 25-year project to help protect seabirds.
Home to breeding populations of 14 species and approximately 20,000 birds, one of the islands' major threats is predation of eggs and chicks by rats.
Conservationists hope by clearing St Agnes and Gugh, the seabird population will be significantly restored.
The project has secured £700,000 in funding from the Heritage Lottery Fund (HLF) and the EU LIFE programme.
The project has a number of aims to protect and restore the seabird population - including the storm petrel and the Manx shearwater - for which the UK has a global responsibility, say conservationists.
The European storm petrel in Scilly is the only colony in England, with only 1,398 pairs in 2006.
The islands are also one of only two locations in England where Manx shearwaters breed.
The overall population of seabirds on the islands declined by 24% between 1983 and 2006.
'Unwanted disturbance'
A feasibility study estimated the population of brown rats on the Isles of Scilly was 34,500, with 3,100 occurring on St Agnes and Gugh.
The brown rat's success lies in its opportunistic way of life and ability to reproduce, with a pair multiplying to 200 in just one year.
David Mawer, senior conservation warden, Isles of Scilly wildlife trust said: "Seabirds already attract visitors to Scilly, and this project and the clever use of technology can reveal more of their fascinating lives, whilst leaving the seabirds free from unwanted disturbance."
The rat-removal operation would occur over the winter, from October to March, using 'bait stations' to prevent poisoning of non-target species.
Richard Bellamy, head of the Heritage Lottery Fund South West, said we have a "collective responsibility for the native wildlife on the Isles of Scilly".
HLF has awarded the project £269,100, alongside EU Life fund £460,255, with further contributions from Isles of Scilly AONB Sustainable Development Fund, The Duchy of Cornwall, Isle of Scilly Wildlife Trust and Natural England.